Penn Museum Collaborates with Free Library of Philadelphia Summer Reading Program
And Offers Outreach Programs at Select Libraries throughout Pennsylvania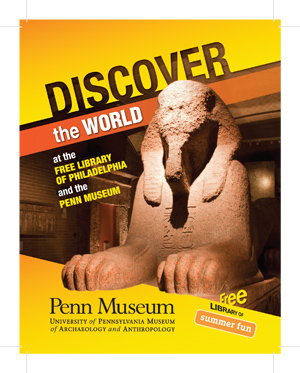 When school lets out, summer reading is a crucial activity for children and young adults-who can lose up to three months of their reading skills during the vacation season if they stop reading. Library summer reading programs strive to encourage reading, and learning, for all ages.
DISCOVER THE WORLD Collaboration
This summer, the Free Library of Philadelphia's summer reading program theme is DISCOVER THE WORLD @ YOUR LIBRARY. The program runs June 20 through August 12, 2011. Penn Museum has partnered with the library system to extend the experience for children and youth, ages 6 through 18, who sign up for the reading program, by providing them each with a FREE PASS to continue their summer exploration in the Penn Museum's three floors of art and artifacts from cultures through time and around the world.
"DISCOVER THE WORLD is a theme near and dear to the hearts of the archaeologists, anthropologists, and researchers who are part of the Penn Museum," noted Dr. Richard Hodges, Williams Director. "We are delighted to partner with the Free Library of Philadelphia. We hope we can help to inspire a lifelong love for learning about the many stories and cultures of the world, stories one can find in good books-and throughout the galleries at the Penn Museum."
ONE WORLD, MANY STORIES Programming
The Free Library of Philadelphia's theme is a variant of this year's national summer reading theme, "One World, Many Stories," a theme that many libraries throughout Pennsylvania are also embracing. The Museum is offering more than 20 thematic library presentations, June through July, sponsored by the Commonwealth of Pennsylvania Lecture program.
Presentations, free to the public and offered by area experts and University of Pennsylvania graduate students, are varied, and include "Aesop's Fables" by master puppeteer Steve Abrams; "The Continent of the Drum" by Omomola Iyabunmi, "Dances of Egypt" by Habiba (Barbara Siegel), "I Want My Mummy" by Dr. Stephen Phillips, and "King Minos and the Minotaur" by John Kuehne. Participating libraries include the Kingsessing Library in Philadelphia; Schlow Centre Regional Library at State College; La Mott Library in La Mott; Wissahickon Valley Library in Blue Bell; North Wales Area library in North Wales; and the Butler County Federated Library System in Butler, Pennsylvania.
The Commonwealth of Pennsylvania Lecture program is funded by the Commonwealth of Pennsylvania and sponsored by the Penn Museum. More information about the program and topics are online.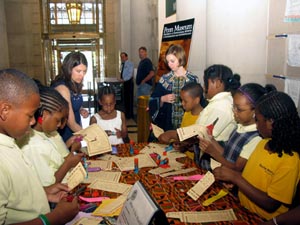 Photos: School children rally, and visit a Penn Museum station to make cartouches with their names in ancient Egyptian hieroglyphs, at the Free Library of Philadelphia's official launch of the Discover the World summer reading program.