Penn Museum Partners with Lucasfilm, Ltd., Montreal's X3 Productions and the National Geographic Society To Present Indiana JonesTM and the Adventure of Archaeology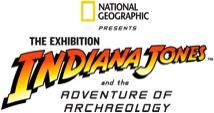 May 2011—The world premiere of Indiana JonesTM and the Adventure of Archaeology - The Exhibition opened at the Montreal Science Centre in Canada Thursday, April 28. While the exclusive collection of Indy props, models, concept art, and set designs are pure Hollywood, there is also a vast selection of artifacts, on display from the Penn Museum in Philadelphia, that help illustrate the science of archaeology.
The official website is www.indianajonestheexhibition.com
Read National Geographic's press release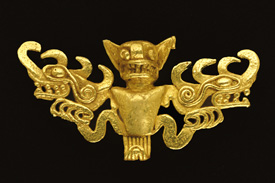 Seventy-four artifacts—including gold treasures from the Museum's excavations at Sitio Conte, Panama; a clay cuneiform tablet featuring the world's earliest known map; a Precolumbian pot from Peru's ancient Nazca culture with depictions of decapitated heads; and an elegant, fragile papyrus page of the Egyptian Book of the Dead—come from the Penn Museum.
The artifacts were selected from the Museum's rich holdings (nearly one million artifacts from around the world) for the stories they can tell about real archaeology.
Penn Museum staff—many of whom were inspired by the Indiana Jones films—have been following plans for the exhibition, co-curated by Fredrik Hiebert, archaeologist and explorer with the National Geographic Society, and a consulting scholar of the Penn Museum.
"It was fabulous to be able to draw on the Museum's vast international collection to help tell this story--the excitement of real archaeological discovery," Dr. Hiebert noted. "We've got a great set of objects-they add up to a microcosm of the best of the Penn Museum's collections."
Robert Thurlow, Penn Museum Traveling Exhibitions Coordinator, on hand for the installation, was blogging from Montreal.
The exhibition, presented by the National Geographic Society, is currently planned to travel outside the United States to premiere institutions throughout Europe and the Asia-Pacific region.
Lucasfilm, the Lucasfilm logo, Indiana JonesTM and related properties are trademarks and/or copyrights, in the United States and other countries, of Lucasfilm Ltd. and/or its affiliates. TM & © Lucasfilm Ltd. All rights reserved. All other trademarks and trade names are properties of their respective owners.
Photo captions: Top, Cast Gold Bat Effigy Pendant, circa AD 500-900, from Penn Museum's 1940 expedition to Sitio Conte, Panama. (Height: 2.2cm, With: 4.4 cm, Thickness, .9 cm). Bottom: Book of the Dead ancient Egyptian papyrus fragment, 1279-1213 BC, from Thebes, Egypt, gift of the American Exploration Society, 1902. (Height: 41 cm; Width: 58 cm)