Penn Museum's Alaskan Umiaq is Centerpiece of Exhibition
At the United Nations Headquarters in NYC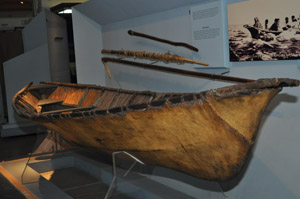 PHILADELPHIA, PA May 2011—Penn Museum's largest object from Alaska—a 15-foot long Umiaq, or Iñupiaq boat—journeys to the United Nations Headquarters in New York City, where it takes center stage in a new exhibition, The Right to Water and Indigenous Peoples, May 16 through June 30, 2011. The exhibition, which marks the Tenth Session of the UN Permanent Forum on Indigenous Issues, highlights water's critical relevance to indigenous peoples' cultural vitality as well as their social and economic well being, and includes contributions from indigenous film and photographic artists from all over the world.
Read more on Penn's Year of Water website.
About the Umiaq
The Museum's Umiaq (15'1"L by 4'6"W by 1'7"H, object #29-47-5) is an Iñupiaq wooden frame boat covered with stretched walrus hide coated with seal oil, and dates to the late 19th-early 20th centuries. Sewn or spliced together without benefit of nails, which could rust and sink the boat, Umiaqs are still used by Iñupiaq people for hunting whales or for summer transport. They are easier to repair than aluminum boats and don't make metallic sounds that can frighten away whales.
Subsistence whaling is a central focus in the lives of Iñupiaq peoples. It involves an elaborate series of ritual events designed to influence the whale spirits, as well as practical tasks associated with equipment manufacture and repair, outfitting the Umiaq, the hunt, and the distribution of meat, skin, and blubber. These activities take place each fall, when the sea-ice begins to freeze, and ends only with the final celebration, in May or June, after a successful hunting season. Global warming, however, is having a profound effect upon traditional subsistence whaling; the thinning sea ice makes it more difficult to bring the whale ashore. The Inuit Circumpolar Council regards climate change as a threat to indigenous peoples' human rights.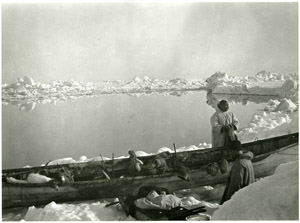 This Umiaq was among a number of items collected for the Museum by William B. Van Valin, who was hired to lead an expedition to Alaska in 1917-1919. Van Valin had previously lived and taught in northern Alaska while working for the U.S. Bureau of Education. For the Museum, he collected ethnographic material among the Iñupiaq people and excavated archaeological materials at Point Barrow, Alaska, the northernmost location of mainland North America. He also took photographs and motion picture film. The Van Valin films, now at the Smithsonian Institution's Human Studies Film Archives, are the first ever made of Iñupiaq life.
The University of Pennsylvania Museum of Archaeology and Anthropology is dedicated to the study and understanding of human history and diversity. Founded in 1887, the Museum has sent more than 400 archaeological and anthropological expeditions to all the inhabited continents of the world. With an active exhibition schedule and educational programming for children and adults, the Museum offers the public an opportunity to share in the ongoing discovery of humankind's collective heritage.
Penn Museum is located at 3260 South Street, Philadelphia, PA 19104 (on Penn's campus, across from Franklin Field). Penn Museum can be found on the web at www.penn.museum. For general information call (215) 898-4000.
Photos: Above:Penn Museum's Umiaq was on view until recently, in the Museum's former exhibition Raven's Journey: The World of Alaska's Native People. Below: Whaling scene at sea--preparing to haul whale meat and blubber to shore.  Alaska, 1917-1919. Photograph by William B. Van Valin.  Penn Museum image #11117, courtesy of the Van Valin family.