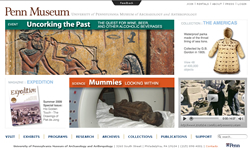 PHILADELPHIA, PA—The University of Pennsylvania Museum of Archaeology and Anthropology has opened the door to its new home on the web at www.penn.museum. This new website offers a fresh new design, expanded research content, and behind-the-scenes features, as well as dynamic, interactive, and multimedia functionality to engage visitors at multiple levels.
Penn Museum's in-house web development team has built a world-class website based on a graphic structure and content strategy conceptualized by Stellarvisions, a Philadelphia-based communication architecture studio. The new website presents the many facets of the Museum to a variety of audiences, ranging from children, families, and teachers to the students and scholars on Penn's campus and around the world.
Blogs by archivists and researchers in the field and expanded presentations of key research projects provide richer access to the many activities that make the Museum's international collections and research projects unique. Visitors who wish to stay connected to the Museum and its many activities through social media will find expanded opportunities to join the Museum's growing fan base on Facebook, Flickr, Twitter, iTunes, and YouTube.
As the Museum moves forward with the digitization of its collections and major research archives, the website will serve as the main portal for both scholars and the public to access these invaluable resources. As such, it is a key element of the Museum's "Digital Spine," the name Penn Museum Director Richard Hodges gives the series of digital initiatives that are a critical component of its long-range communication and curatorial strategy.
The University of Pennsylvania Museum of Archaeology and Anthropology is dedicated to the study and understanding of human history and diversity. Founded in 1887, the Museum has sent more than 400 archaeological and anthropological expeditions to all the inhabited continents of the world. With an active exhibition schedule and educational programming for children and adults, the Museum offers the public an opportunity to share in the ongoing discovery of humankind's collective heritage.
Penn Museum is located at 3260 South Street, Philadelphia, PA 19104 (on Penn's campus, across from Franklin Field and adjacent to SEPTA's University City Regional Rail station serving the R1, R2 and R3 lines). Museum hours are Tuesday through Saturday, 10am to 4:30pm, Sunday 1pm to 5 pm. Closed Mondays and holidays. Admission donation is $10 for adults; $7 for senior citizens (65 and above); $6 children (6 to 17) and full-time students with ID; free to Members, Penncard holders, and children 5 and younger; "pay-what-you-want" after 3:30pm Tuesday through Saturday, and after 4pm Sunday. Penn Museum can be found on the web at www.penn.museum. For general information call (215) 898-4000.