The Penn Cultural Heritage Center, dedicated to expanding both scholarly and public awareness, discussion, and debate about the complex issues surrounding the world's rich—and endangered—cultural heritage, has been established at the University of Pennsylvania Museum of Archaeology and Anthropology in Philadelphia.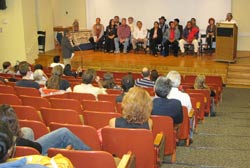 Dr. Richard M. Leventhal, Professor of Anthropology, University of Pennsylvania, Curator, American Section at Penn Museum, and former Williams Director of Penn Museum, is founder and director of the new Penn Cultural Heritage Center. PCHC draws upon the expertise of the Museum's curators, researchers, graduate students, other Penn department faculty, and outside scholars, for its programs.
Visit the Penn Cultural Heritage Center website
"In a rapidly changing global world, cultural heritage has become an important topic, playing an increasingly critical role in the identity politics of communities, the economic growth of world tourism, and the rules and regulations governing the international antiquities trade."
Dr. Richard Leventhal
The Center's broad initiatives include:
Education and outreach programming for diverse audiences, including law enforcement, customs officers, lawyers, policymakers, and academics involved in cultural property protection and issues—as well as community stakeholders and the general public. The Center has built upon earlier Museum training programs with United States officers to help stop the illicit movement of antiquities.
Consultation on national and international policy issues, working with Ministries of Culture and other governmental groups to develop a holistic approach in the management of cultural heritage at local, national, and international levels. The Center is currently consulting with agencies in Mali, Montenegro, and Honduras, with long-range plans to build this capacity.
Conferences, with opportunities for in-depth dialog, publication, and, where appropriate, concluding public presentations.
"Cultural heritage plays an ever more prominent role in the study and interpretation of the past, the ethics and planning of archaeological research, and the role of the museum, now and in the future."
Dr. Richard Leventhal
Other areas of development for the Center include community development and the integration of community involvement in archaeological programs and site protection; museum collaborations on a national and international scale, with a focus on developing best practices related to heritage issues; and the development of an expert network of archaeologists versed in cultural heritage law and ethics issues surrounding cultural heritage.
The Penn Cultural Heritage Center is supported by funding from the Provost's Office of the University of Pennsylvania and from private donors.