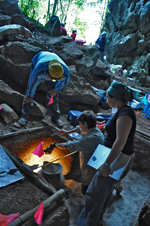 As director of Penn Museum's Middle Mekong Archaeological Project in Laos, Dr. Joyce C. White, Associate Curator and archaeologist, is currently leading an excavation at the UNESCO World Heritage site of Luang Prabang. The project's mission is to investigate the prehistory of the region, which has until now been untouched by modern archaeology.
The team's progress is being documented by a daily blog written and posted by Amy Ellsworth, Penn Museum's digital media developer. Her posts, which began on Jan. 1, will continue through Jan. 17. The blog has so far chronicled the discovery of what appears to be a burial pot from the Iron Age, around 2000 BCE, as well as two bones thought to be human and a piece of skull.
The archaeological team is focusing on a cave called Tham An Mah, once used as a Buddhist temple.  When White leaves later this month, the project will be handed over to the Laos people to maintain and continue research. Read the daily blog at http://middlemekong.wordpress.com.