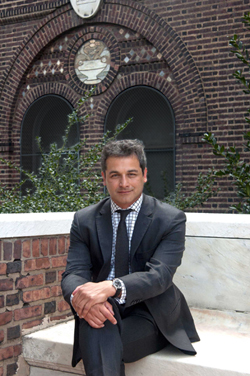 Whether you are planning a visit to our galleries, or browsing our collections or research through this site, it is my great pleasure as Williams Director to welcome you to the Penn Museum.
For more than 125 years, our Museum's three-part mission—research, collections stewardship, and educational outreach—has been focused around improving our understanding of our shared human heritage. Our collection of roughly one million objects covers the entire history of humanity—from stone tools and household items to architectural monuments and fine art objects—and reveals the incredible and diverse accomplishments of people from all over the world.
Most of the objects in our collection come directly from our own archaeological excavations and anthropological expeditions, and—as our archives house the related field notes, letters, research reports, photographs, and drawings—we are able to present them in our galleries with an understanding of their cultural and environmental contexts. And Penn archaeologists and anthropologists are still exploring, excavating, and researching around the world today—often with Penn students among their team members. You can read about their discoveries on their research pages or blog entries on this site, or visit the Museum to hear them lecture and ask them questions at one of our many programs and events.
Since its founding in 1887, the Penn Museum has been a museum of the world and for the world—at its heart, about exploration and discovery. I invite you to share in our great, human adventure. Return to our website often. I promise you will find something new every time. And come and enjoy our galleries. In addition to magnificent objects, our interactive features will offer you plenty of ways to explore for yourself, and to tell us what you think and what else you would like to see.
The Penn Museum is more than 125 years old and still exploring—we invite you to join the voyage of discovery.

Julian Siggers, Ph.D.
Williams Director