PUM II and Hapi-Men, two of the ancient Egyptian mummies on display in Mummies Secrets and Science, have had their share of medical scrutiny. PUM II was both x-rayed and autopsied in 1973, while Hapi-Men underwent an x-ray in 1980. In April 2009, researchers took them to the Hospital of the University of Pennsylvania, for a more technologically advanced CT scan to find out more about the 2,000 year-old mummies. They were joined by Hapi-Men's mummified pet, affectionately known as Hapi-Puppy. All three mummies were successfully scanned, and returned to the Penn Museum before before the hospital's living human patients' CT scan appointments began.
Seven additional mummies on display in the Museum also have doctor's appointments for scanning in the near future. The results of this procedure will eventually inform a new segment of the current exhibition.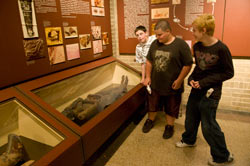 "As a state of the art, three dimensional, non-invasive procedure, CT scans can provide us with a wealth of new data, without causing damage to these mummies," noted Dr. Jennifer Wegner, Senior Research Scientist in the Egyptian section, who joined the team Sunday morning on their short trip across the street to the hospital. "It's a wonderful way to unlock 'secrets,' and learn more about the life, and death, of the mummies in our collection."
The team that took PUM II, Hapi-Men and Hapi-Puppy to HUP included Samantha Cox, anthropology major and junior in the College of Arts and Sciences, who will be doing the analysis of the mummy CT scans as an independent research project. A Penn Museum volunteer since her junior year in high school, Samantha has been assisting Dr. Janet Monge, Acting Curator, Physical Anthropology section, on a comprehensive, National Science Foundation-funded CT scanning project since her freshman year as a University of Pennsylvania undergraduate. She was joined at the hospital by Janet Monge and Jennifer Wegner, as well as Penn students Jennifer Rosado, also a junior majoring in anthropology, and Paul Sanborn, a second year M.S. student in Physical Anthropology.
HUP Radiologic Technologist Erika Durham noted that length of the unusual patients posed a challenge.  She had to do two partial scans with overlaps. Samantha Cox will stitch the two scans together at the Penn Museum anthropology laboratory.
Hapi-Men appeared to have some objects, possibly protective amulets, in his chest cavity which is common in mummies. Samantha will be looking at the bones and teeth for signs of pathology—potential disease, the general health of the two mummies believed to be between 35 to 40 years of age.
Stay tuned to find out more about the results of the scans!