Increase content knowledge, discover new resources, and swap stories when you attend professional development opportunities at Penn Museum.
Upcoming Professional Development Opportunities
Inquiry and the Ancients: A Mini Teacher Institute
Presented by the Penn Museum and the University City Science Center
July 13 - July 14, 2015
8:00 am - 3:00 pm
This FREE two-day mini institute, sponsored in part by PECO, is offered to all middle school (6th-8th grade) teachers in the School District of Philadelphia, KIPP, and Mastery Charter schools. Teachers from these schools are also eligible for the Penn Museum's Unpacking the Past program, which provides free outreach lessons and museum visits (including buses) for all of their 7th grade classes.
The educational value of a class visit to the Penn Museum can be greatly enhanced by what happens before and after the trip. Participants in this FREE Mini Institute will learn from leading experts in the field of archaeology, receive behind the scenes tours of the Penn Museum's world-class collections, and be given time and space to work collaboratively with other teachers to create extension lessons for their classrooms using inquiry-driven approaches. Parking, breakfast, and lunch are included on both days of the Institute and teachers will receive ACT 48 credits for attending. Those teachers who complete their pre- and post-visit lessons will receive a $100 stipend.
Please contact Emily Hirshorn, GRoW Annenberg Program Manager, with questions: This email address is being protected from spambots. You need JavaScript enabled to view it. or 215-898-4033

---
Past Professional Development Opportunities
Native American Peoples: Past and Present Teacher Institute
Calling high school teachers of all disciplines! The Penn Museum will host a Teacher Institute in collaboration with the Yale Peabody Museum. Sessions will highlight the Penn Museum's incredible collection of Native American objects and knowledgeable curators and professors. The Institute will assist and inspire teachers to create a curriculum that highlights Native American culture of past and present.
Through this extraordinary opportunity, teachers will receive:
Object and primary source workshops with Penn Museum curatorial staff
Guided discussion with Teacher Specialists to create pre- and post-museum visit lesson plans
An expansion of content knowledge, classroom resources, and ways to inspire students to critically think
As participants of the Teacher Institute, teachers that complete pre- and post-visit extension lessons will receive $100 stipends. Participating High School teachers of all disciplines will receive discounted student admission to the Penn Museum and free materials to take back to the classroom.
Indigenous Peoples: Past and Present will directly integrate Common Core and Pennsylvania State Standards into content and sessions for easy adaptation to any classroom.
---
UNPACKING THE PAST
Professional Development Day at the Penn Museum
All School District of Philadelphia Middle School Teachers*are invited to come to the Penn Museum on Tuesday, August 26, 2014 from 8:00 AM – 1:00 PM to attend a FREE, fun-filled, and informative professional development day that introduces our amazing program, UNPACKING THE PAST
During this truly unique PD experience, participating teachers receive:
PROFESSIONAL DEVELOPMENT: Four ACT 48 credits, lesson plans
PROGRAM DETAILS: Information about UNPACKING THE PAST
EDUCATIONAL OFFERINGS: Egyptian Gallery tour, Mummy Makers mummification workshop, hands-on activity, Q&A with world-famous Egyptologists
SPECIAL OFFERS: Light breakfast, catered lunch, free parking, school supply giveaways, and more!
UNPACKING THE PAST is an innovative NEW partnership between the Penn Museum, the School District of Philadelphia, Mastery, and KIPP. It is designed to give Philadelphia 7th graders FREE Common Core-aligned in-class and on-site instruction that explores the accomplishments of Ancient Egyptian culture. Participating classrooms receive a FREE in-class visit from our experienced Mummy Mobile Educators; FREE book and educational materials to keep in the classroom; and a FREE trip to visit the Museum (includes bus, Egypt Gallery tour, and our popular Mummy Makers hands-on workshop).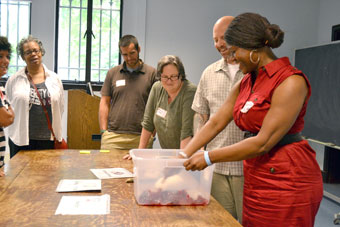 *PLEASE NOTE: The FREE Unpacking the Past is only offered to 7th grade classrooms. We welcome all middle school teachers to attend the professional development because we know that teaching assignments can change at the last minute and that teachers collaborate across grade levels. However, only teachers of 7th grade classes will be able to book class visits and field trips through this program.
Unpacking the Past: A partnership with the School District of Philadelphia, the Knowledge is Power Program (KIPP), and Mastery Charter Schools
---
Unpacking the Past is made possible through funding generously provided by The GRoW Annenberg Foundation
---
Contact
Emily Hirshorn, Grow Annenberg Program Manager
215-898-4033
This email address is being protected from spambots. You need JavaScript enabled to view it.
---

Sign up for e-newsletter updates about educational opportunities at the Penn Museum. Indicate the "Educator, K-12 Programs" option.