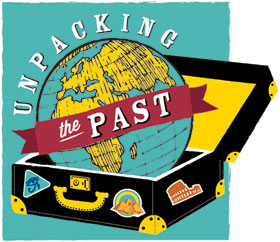 A partnership with the School District of Philadelphia, the Knowledge is Power Program (KIPP), and Mastery Charter Schools
Unpacking the Past is a FREE three-year program that connects seventh grade classrooms studying ancient Egypt or Rome in the School District of Philadelphia, Knowledge is Power Program (KIPP) Charter Schools, and Mastery Charter Schools with the world-renowned collections and teaching resources of the Penn Museum. Unpacking the Past takes a comprehensive approach to ensure that the experiences of both the students and the teachers are academically enriching and connected to the School District's Scope and Sequence, Common Core curriculum, and 21st Century Skills.
Seventh grade students and teachers can explore ancient Egypt or Rome through this programmatic package:
Part 1: Classroom Outreach Lesson
Enhance your lessons about ancient cultures by bringing the Penn Museum to you. Outfitted in our Subaru Mummy Mobiles, our knowledgeable staff will bring a 45-minute multi-disciplinary lesson about archaeology and anthropology, all the materials, and educational supplies for your classroom.
Part 2: Museum Trip and Workshop
Shortly after the outreach lesson, plan a visit to the Museum with buses, admission, and all programs provided for FREE. Receive a guided tour of our world-famous Egyptian or Roman galleries paired with a Mummy Makers or Making a Mosaic Hands-On Workshop. Students learn about mummification, preservation, and other key concepts through real objects and interactive activities. The tour and workshop package last two hours and students are free to explore the Museum following their educator-led activities.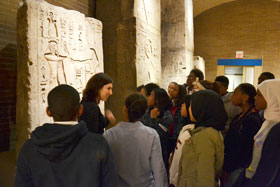 All participating Unpacking the Past students receive household memberships to visit the Penn Museum with their families FREE for an entire year. Special Welcome Days presented in part by PECO will provide opportunities for Unpacking the Past students to return to the Museum and share their new knowledge with their families.
---
To book your Unpacking the Past session, email This email address is being protected from spambots. You need JavaScript enabled to view it. or call 215.898.4033. In your email, use the subject line "Unpacking the Past" and include name of school, number of students, three preferred dates for outreach, three preferred dates for museum trip, and preference of Rome-based or Egypt-based programming. Please book four to six weeks in advance of each activity; for best results, plan to book Part 1 and Part 2 together.
---
UNPACKING THE PAST TEACHER PROFESSIONAL DEVELOPMENT SESSIONS
Presented by PECO
Throughout the year, all School District of Philadelphia, KIPP, and Mastery middle school teachers are invited to attend Unpacking the Past professional development days at the Penn Museum. During these events, teachers may preview the Unpacking the Past offerings, connect these resources to curriculum, and receive Act 48 credits. Through participation in activities, teachers learn about ancient Egypt or Rome to effectively prepare for their students' participation in Unpacking the Past, and have fun at the same time! Please contact This email address is being protected from spambots. You need JavaScript enabled to view it. for upcoming dates or view our professional development page.

---
Unpacking the Past is made possible through a generous lead grant awarded by GRoW Annenberg, a program of the Annenberg Foundation.

Additional funding provided by the Women's Committee of the Penn Museum, the Christopher Ludwick Foundation, the John Templeton Foundation, PECO and generous individual donors including the Estate of Ellen Cole Miller; Diane von Schlegell Levy and Robert M. Levy, WG74; Mrs. Louis Gerstley III, GM57; Marie A. Conn, Ph.D.; Barbara Rittenhouse; Jerry D. Levitt, M.D., C62, M66, FEL72, and Julie M. Levitt, Ph.D., C65; Mrs. Joel Bachman; and Donna Mackay, M.D. and Robert Mackay.
---