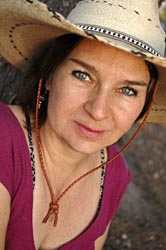 September 22
Saturday, 2:00 pm
Run! Afternoon Program with
Photographer Diana Molina and Filmmaker Sterling Noren
Meet Texas-born photographer and journalist Diana Molina, who speaks about her experiences among the Rarámuri people, the focus of her new exhibition Run! Super-Athletes of the Sierra Madre, currently on view at the Penn Museum. Filmmaker Sterling Noren shares excerpts from his video, "Run Free! The Legend of Micah True," which tells the story behind the Copper Canyon Ultramarathon and its charismatic founder.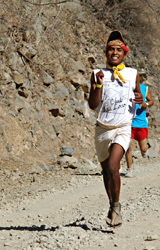 Run! Super-Athletes of the Sierra Madre
Continues through September 30, 2012
This new exhibition opened in March, just days after the death of Micah True, a.k.a. Caballo Blanco, beloved founder of the Copper Canyon Ultramarathon races and a great supporter of the Rarámuri people and culture. The Museum has dedicated the show to his memory. Considered to be the world's greatest long-distance runners, the Rarámuri live within the dramatic canyons of the Sierra Madre in Chihuahua, Mexico. Competing on mountainous terrain in daylong races of up to 100 miles, they have maintained the strength, stamina, and isolation that have ensured their survival through the centuries. Experience the races for yourself through the vibrant and colorful photography of Texas-born photographer and journalist Diana Molina, who has documented the Sierra Madre and its people for nearly two decades.

Run! is supported in part by the Mexican Society of Philadelphia and The Honickman Foundation in honor of the memory of Elaine Garfinkel. Penn Relays at the University of Pennsylvania (www.ThePennRelays.com) and the Philadelphia Runner (www.philadelphiarunner.com), with stores in University City, Center City, and Glen Eagle Square, are exhibition partners.

A book-signing of the new exhibition catalogue, on sale in the Museum Shop ($15.95 plus tax) follows.

Free with Penn Museum admission donation: $12 for adults; $10 for senior citizens (65 and above); $10 for U.S. Military; $8 for children (6 to 17) and full-time students with ID; free to Members, PennCard holders, and children 5 and younger. 3260 South Street, Philadelphia, PA 19104. For more information, call 215.898.2680.
Photos (from top): Photo by Brenda Munoz; photo by Diana Molina