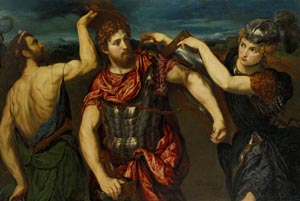 March 20
Wednesday; 5:30 pm (bar); 7:00 pm (film)
History and Mystery Cinema
Clash of the Titans (2010)
This new film series begins with the 2010 remake of the cult classic Clash of the Titans, loosely based on the myth of Perseus. Before the film, guests can drink and mingle while wandering the galleries, and see Classical Greek objects from the Museum's collection. During the movie—described by film critic Colin Covert as "all flash, trash, and crash"—guests enjoy live commentary (think Mystery Science Theater 3000) by Professor Ralph Rosen, a specialist in Greek satire and classical reception, and his sidekick graduate students. Free with Museum admission. For more information, call 215.898.2680.