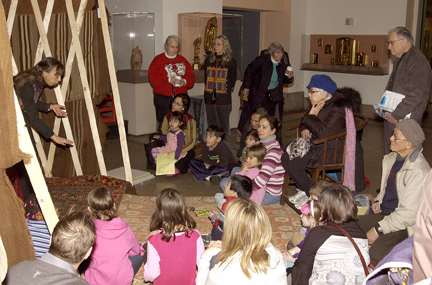 April 10
Wednesday, 5:00 - 8:00 pm
Free Community Night
Penn Museum, in cooperation with the Greater Philadelphia Cultural Alliance's GroundSwell initiative, opens its doors Wednesday, April 10, 5 to 8 pm, for a free Philadelphia READS! Community Night and the official kickoff of a month-long children's book drive! Penn Museum curators, collections keepers, and graduate students join in the celebration with gallery storytelling, and hands on activities.
Guests can learn to write ancient Sumerian on clay tablets and write their names in Egyptian Hieroglyphs, during workshops offered throughout the evening. Favorite stories from diverse cultures are presented by curators, keepers, and staff in the Museum's related galleries. The event also features an interactive poetry program, readings of original poems by young writers, and conversations on ways to help promote literacy in the community. Attendees can also enjoy dance works inspired by stories from literature and folklore.
Guests are encouraged to bring a gently used or a new children's book—suitable for pre-kindergarten through elementary school—to contribute to Philadelphia READS, a program that provides books and literacy resources to educators in the City of Philadelphia. For more information, call 215.898.2680.
SCHEDULE OF EVENTS
Workshops

5:00, 5:30, and 6:00 pm: Learn to write in ancient Sumerian with Irene Plantholt, Graduate Student, Near Eastern Languages and Civilizations

5:30 pm: Explore the "language" of the drum, at a middle eastern drum workshop hosted by renowned Philadelphia drummer Joe Tayoun
6:30 and 7:15 pm: Learn to write in ancient Egyptian heiroglyphs with Allison Hedges, Penn MLA Graduate, Ancient Studies
Multicultural Storytelling

5:00 pm: International Classroom Program Manager Prema Deshmukh
5:30 pm: Egyptian Section Associate Curator Jennifer Wegner
6:00 pm: Near Eastern Section Assistant Curator Lauren Ristvet
6:30 pm: Mediterranean Section Associate Curator Ann Brownlee
7:00 pm: Physical Anthropology Curator Janet Monge
7:30 pm: Near Eastern Section Keeper Katy Blanchard
7:30 pm: Adrienne Jacoby, Executive Director, Philadelphia READS
Poetry

Throughout the evening: Create and perform poetry using newspaper headlines with teaching artist, actor, and storyteller Jan Michener of Arts Holding Hands & Hearts.
Throughout the evening: Hear performances by youth poets from ArtWell.

Dancing

6:00 and 7:00pm: Chisena Danza, Stone Depot Dance Lab and Jennifer Yackel and Dancers collaborate to perform a dance work inspired by stories from literature and folklore.
Volunteering

Throughout the evening: West Philadelphia Alliance for Children (WePAC) provides information on ways to volunteer in their effort to promote literacy.

Reach Out and Read Greater Philadelphia and The Children's Hospital of Philadelphia's Reach Out and Read Program are also on hand. Reach Out and Read is a national program that prepares America's youngest children to succeed in school by partnering with doctors to prescribe books and encourage families to read together.

You can RSVP for this special event, and invite your friends to join the fun, at the Eventbrite event listing.

---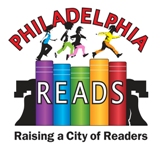 About Philadelphia READS:
Philadelphia READS provides volunteer opportunities for individuals and groups to help put children on the path to academic success. The Philadelphia READS Book Bank provides children's books for classroom libraries and school supplies for students -- free of charge -- to Philadelphia educators who teach in under resourced public, charter and parochial schools, day care centers, after school programs and other educational sites. In the 2011 – 2012 school year, 91,000 books were supplied to under-resourced classroom libraries.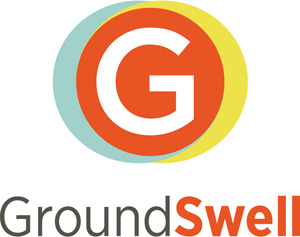 About GroundSwell:
Do Something Good for a Change! GroundSwell, an initiative of the Greater Philadelphia Cultural Alliance, is building a movement of residents who take action to make Philadelphia a world-class place to live, work, and play, and who speak out on behalf of our region's cultural assets.