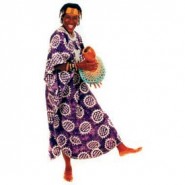 July 31
Wednesday, 11:00 am - 12:00 pm
"Summer Wonder" Event
Charlotte Blake Alston presents Stories and Songs in the Oral Tradition
Penn Museum's Summer Wonder program, appropriate for guests of all ages and their families, continues with this storytelling performance. Whether accompanying her stories with a thumb piano, djembe, or a 21-string kora, Charlotte Blake Alston uses her melodic and mesmerizing voice to breathe life into contemporary and ancient tales alike. All of her programs draw upon the rich source of stories, songs, games, and music that are the hallmarks of the African and African American oral traditions. All Summer Wonder performances are free with Museum admission.
Read about the full series of Summer Wonder events here.