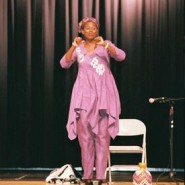 August 21
Wednesday, 11:00 am - 12:00 pm
"Summer Wonder" Event
Linda Humes presents A Tribute to Martin Luther King, Jr.
Penn Museum's Summer Wonder program, appropriate for guests of all ages and their families, continues with this storytelling performance. August 28th marks the 50th anniversary of Dr. Martin Luther King, Jr.'s "I Have a Dream" speech. Storyteller Linda Humes celebrates the legacy and times of Dr. Martin Luther King, Jr., accompanied by master percussionist, Sanga of the Valley. Filled with stories about Rosa Parks, Marion Anderson singing on the steps of the Lincoln Memorial, and civil rights songs of the day, Linda pays tribute to this giant in American history and his powerful message of peace and justice for all. Presented in association with Young Audiences New Jersey & Eastern Pennsylvania. All Summer Wonder performances are free with Museum admission.
Read about the full series of Summer Wonder events here.