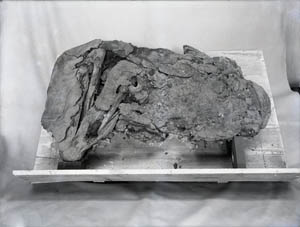 June 1
Saturday, 1:30 - 5:30 pm
Archaeology Department Room 345
Afternoon Mini-Seminar
Death and Sacrifice in Early Egypt: Ritual Murder and Pre-Dynastic Mummification at the Penn Museum
This program features lectures by four experts on Egyptian mummies, and includes a visit to the Museum's Conservation Lab for an up-close look at one of our specimens. Speakers include Lynn Grant, Head Conservator; Dr. Beth Ann Judas, President, American Research Center in Egypt - PA chapter; Dr. Jane Hill, Rowan University; and Dr. Ellen Morris, Barnard College. Sponsored by ARCE-PA. Admission: $20, general public; $15, Museum members; $10, ARCE-PA members and students with ID. For more information, visit www.arce-pa.org.

Photo: Mummified remains from the Pre-Dynastic Period. Penn Museum.