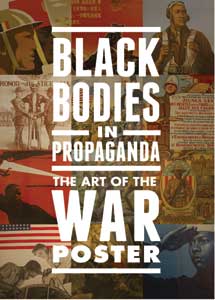 June 2
Sunday, 1:00 pm
Exhibition Opening
Black Bodies in Propaganda: The Art of the War Poster
Tukufu Zuberi has been collecting war posters since 2005, with a particular focus: propaganda and messaging largely used to mobilize Africans and African-Americans in times of war. Well-known as a host of the hit PBS series History Detectives, Dr. Zuberi is The Lasry Family Professor of Race Relations, and Professor of Africana Studies at the University of Pennsylvania. Selections from his unique poster collection form the principal focus of this all-new exhibition.
Join us for a ribbon-cutting ceremony at 1:00 pm, and stay for special lectures related to the exhibition. At 2:00 pm, Dr. Zuberi offers an overview of the poster collection, talking about what inspired him to start his collection—and what he hopes visitors will take away from the exhibition. Dr. Eugene Richardson, one of the original Tuskegee Airmen—an all African American regiment—from World War II, speaks at 3:00 pm. Free with Museum admission.
Black Bodies in Propaganda: The Art of the War Poster from Penn Museum on Vimeo.