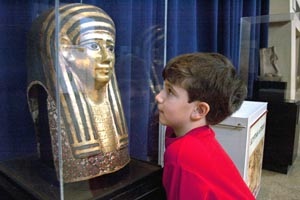 September 21
Saturday, 10:30 - 11:15 am
Young Family Workshop
Gallery Romp: Egypt
Young children (ages 3 to 6) and their favorite grownups are invited to explore the Penn Museum's galleries through stories, crafts and play. Kids can journey with Hen, Goose, and Duck on a picnic, and explore a feast for the afterlife on an Egyptian tomb mural nearby. Each workshop is limited to 25 people and advance registration is encouraged. To register, email jreif@upenn.edu.