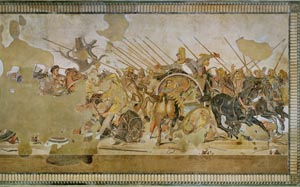 October 8
Tuesday, 6:15 pm
Evening Lecture
Art, Archaeology, and Advanced Technology: The Case of the Alexander Mosaic at Pompeii
Dr. John Dobbins, University of Virginia at Charlottesville, speaks. The Alexander Mosaic from the House of Faun at Pompeii is one of the most famous mosaics that survived from antiquity. The mosaic is well lighted and easy to see in its present location at the National Museum of Naples. In this lecture, Dr. Dobbins discusses the ancient viewing conditions that existed at the House of Faun, which have been recreated using a 3-D model of the house designed by Ethan Gruber, a colleague at the University of Virginia. Sponsored by the Architectural Institute of America - Philadelphia Chapter. Free admission.
The Alexander Mosaic from the House of Faun (public domain image).