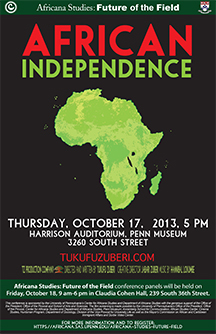 October 17
Thursday, 5:00 pm
Penn Premiere Film Screening
African Independence by Tukufu Zuberi
African Independence, a feature length documentary written, directed, and produced by University of Pennsylvania professor and PBS' History Detectives host Tukufu Zuberi, has won awards and kudos internationally since its January premiere. The film explores the epic, evolving story of Africa today, told through the lens of four watershed events—World War II, the end of colonialism, the Cold War, and the era of African Republics—which have redefined a continent once wracked by enslavement and shaped by European colonization. The film is presented in conjunction with Dr. Zuberi's current exhibition, Black Bodies in Propaganda: The Art of the War Poster, on view through March 2, 2014. Dr. Zuberi offers an introduction to the film. This GlobalPhilly 2013 featured event is cosponsored by the Penn Center for Africana Studies. Free admission; no reservations necessary. For more information about this exciting film project, visit the African Independence website.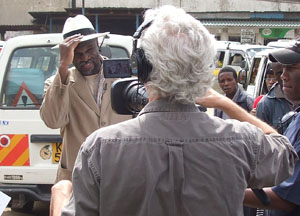 Program lineup:
5:00 pm: Brief opening remarks by Dr. Amy Gutmann, President, University of Pennsylvania, and filmmaker Dr. Tukufu Zuberi (in Harrison Auditorium)
5:20 - 7:20 pm: Screening of film
After the film: Q&A session to follow
African Independence poster and photo, Tukufu Zuberi, writer, director, and producer of African Independence.