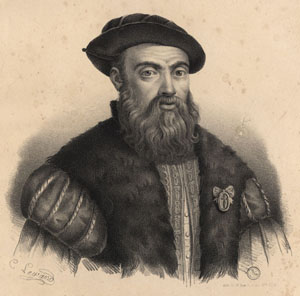 "Great Voyages" Lecture
Ignacio Gallup-Diaz, Associate Professor, History, Bryn Mawr College
Ferdinand Magellan, 'Our One True Guide': The First Circumnavigation of the Globe, 1519—1522
Magellan's circumnavigation was a complex event—a feat of navigation and exploration that also saw hardship, shipwreck, and mutiny visited upon the expedition's crew. In a process that would become paradigmatic, Europeans found themselves enmeshed in regional and local politics—a causative element in Magellan's death. Dr. Gallup-Diaz examines the varied and interconnected maritime, cultural, and political factors that came together during Magellan's circumnavigation. Sign up for a series subscription and save: $40, general public; $15, Penn Museum members. Individual lecture with advance registration: $5, general public; $2, Penn Museum members; $10 at the door based on availability. Free for students with college ID.
Register now for November 6: