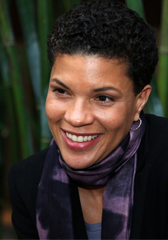 September 25
Wednesday, 5:00 - 6:30 pm
Penn Humanities Forum event
Mass Incarceration in the Age of Colorblindness
Acclaimed civil rights advocate Michelle Alexander discusses her award-winning book The New Jim Crow. Learn the devastating social consequences of America's new face of segregation: mass incarceration. Cosponsored by the Office of the Provost, Penn Law, Center for Africana Studies, Department of Sociology, and Netter Center for Community Partnerships.
Free and open to the public. Pre-registration required.
Photo: Zocolo Public Square