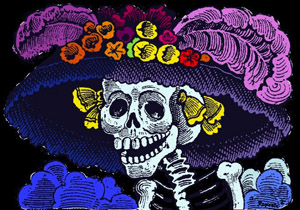 Saturday, November 2, 1:00 - 4:00 pm
World Culture Afternoon
Day of the Dead Celebration
Celebrate Mexican culture and the tradition of the Day of the Dead (Día de los Muertos) with the Penn Museum! Bring the whole family to enjoy this afternoon filled with music, storytelling, arts and crafts, and other fun activities. Marvel at a traditional Mexican Day of the Dead altar dedicated to Jose Guadalupe Posada, political cartoonist and creator of "La Catrina," created specially for the event by renowned artist Cesar Viveros and Cecilia Humphrey, Mexican Cultural Center; and learn about the various dedications placed upon the ofrenda (altar). Don't miss the 16-foot La Catrina puppet created by Spiral Q and the Mexican Cultural Center.
Special guest artist, the famous Joel Garcia will be on-site demonstrating. Joel Garcia is a papier-mâché artist from Mexico City. His work has been featured in galleries and museums throughout Mexico and the United States. Joel (pronounced "ho-el") follows a centuries old tradition of creating papier-mâché figures that are both ceremonial and decorative. Joel's pieces incorporate a variety of sculpture techniques that include molds, metal wire and bamboo armatures, and miniature assemblages. His pieces are brightly colored with acrylic and aniline paints. His playful creations incorporate themes from nature, religion, historical, and cultural events. He is most famous for his interpretation of characters found in the works of Jose Guadalupe Posada, Diego Rivera and Frida Kahlo. His colorful muertos adorn many an altar during Day of the Dead festivities.
Cosponsored by the Mexican Consulate, Mexican Cultural Center, Eyes Gallery, GPTMC, Casa Monarca, and Spiral Q Puppet Theater. Free with Museum admission. For more information, call 215.898.2680.
Schedule of Activities
1:30pm—Storytelling
2:30pm—Day of the Dead Ceremony featuring children from Casa Monarca and Spiral Q
3:15 pm—Dance performance by Fuego Nuevo
3:30pm—Storytelling
All-Day Activities
Sugar Skull-making
Mask-making
Face-painting