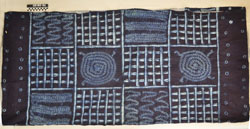 Sunday, November 10, 1:00 - 4:00 pm
Second Sunday Family Workshop
Adinkra Cloth
Adinkra cloth is a hand-printed fabric made by the Ashanti people of Ghana. In this drop-in workshop, use fabric scraps and stamps to create your own collage to take home. Guests can also touch other textiles and objects from Africa. Free with Museum admission. For more information, call 215.898.4016.