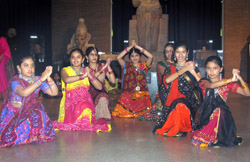 Sunday, December 1, 1:00 - 4:00 pm
World Culture Afternoon
18th Annual Peace around the World: Passport to Cultures
Gather family and friends and head over to the Penn Museum for a FREE holiday celebration! Visitors receive a "Passport to Cultures," featuring "itineraries" to visit Brazilian, Cameroonian, Indian, Kenyan, and Pakistani cultures and more. The lively afternoon offers dance, storytelling, sari-wrapping, yoga sessions, Middle Eastern drumming workshops, face painting and balloon art for children, international family crafts promoting peace and unity, plus free treats for children! Free admission. For more information, call 215.898.2680.
*On Saturday, November 30 and Sunday, December 1, the Penn Museum is donating 100% of proceeds from admission donations to help the victims of Typhoon Haiyan in the Phillipines. All admission donations will be given to the American Red Cross to aid the victims of this devastating storm. While the Museum's regular admission donation is being waived all day Sunday, guests will be invited to give to the relief fund.
Presenters and their topics include:

Paul Kunoni, a Masai originally from Kenya: Masai life, wealth, and the Moran rite of passage for males 16-30 years old.
Gabriela Watson Aurazo, originally from São Paulo, Brazil: How African and African-American culture are woven into Brazilian culture, including the Sunday churrasco (barbecue) family gathering, and Brazilian hip-hop.
Rita Sheth and Sudha Ganesh, Bhartiya Vidalaya Cultural Center: Diwali—the Festival of Lights, to celebrate the victory of good over evil and welcome Lakshmi, the goddess of wealth and prosperity.
Alima Tchafa Minku, from Cameroon: Daily life in Cameroonian culture in addition to its similarities to American culture.
Muqaddas Ejaz, originally from Pakistan: An introduction to Arabic languages and celebration of Eid.
Members of Lajna Ima'illah, the women's auxiliary of the Ahmadiyya Muslim Community: Islamic festivals, art, and history, as well as writing one's name in Arabic, and henna hand art.
Special thanks to Councilwoman Jannie Blackwell and