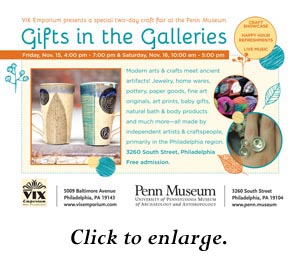 Friday, November 15, 4:00 - 7:00 pm;
Saturday, November 16, 10:00 am - 5:00 pm
Craft Showcase
Gifts in the Galleries
Skip the predictable mall experience—peruse crafts and gift items by independent artisans at this unique holiday shopping showcase. Presented by VIX Emporium, jewelry, ceramics, prints, baby gifts, plus natural bath and body products from more than 50 exhibitors fill the Kintner and Dietrich galleries, as well as the Widener Lecture Hall during this two-day event. Free admission, plus a coupon for $5 off general museum admission on Saturday. For more information, call 215.898.2680.

On Saturday, guests are also encouraged to join the free instructional drum circle with internationally renowned Middle Eastern percussionist Joe Tayoun. Beginner and seasoned percussionists can choose between the 11:00 am drum circle or the 1:00 pm drum circle.
*Please note: the Museum galleries will close at 5pm on both Friday and Saturday.
Exhibitors include: Adorned by Aisha, Anna Beau, As The Crow Flies, AshleyLynn, Bee Vintage Redux, Betsy Ann Paper, Black Heart Letterpress, Box Turtle Press, Contagious, Corina Dross Artwork, Crash Pad Design, Danielle Marie Tobin Designz, Feonixe, INDICAN, Janet Kofoed, Jen McCleary, Joeyfivecents, Jose Sebourne, Krista Peel, Laura J. Designs, Laura Murdoch, Little Studs, Logical Hue, Mamoucha Soaps, Manic Muse, Michele Sky Jewelry, Mud & Maker, New
Histories Jewelry, Nice Things Handmade, Nicole Kristiana Studio, Old Blood, Olliver Candles, On 3 Designs, Phea Jean, Precious Meshes, RachelInk, Sadie's Soaps, Saffron Creations, Sardine Clothing, Shecre8s, Sheri Pray, Squidfire, StitchPrism, Tamme Handbags, Threet Ceramics, Tooth Of The Lion Apothecary, Useful & Beautiful, VIX Emporium, Wise Owl, Wrong World Ceramics, Wunof Creations, and Yard Sale Press.