Sunday, February 9, 3:00 pm
Afternoon Performance
Relâche in Residence
Relâche, Philadelphia's internationally-renowned new music ensemble, continues its new three-concert series, "New Sounds and Cinema," featuring both commissioned music and live accompaniment to old silent films, at the Penn Museum. The series is part of the University of Pennsylvania's Year of Sound.

Relâche concert tickets are just $10 for Penn Museum members; $15 for the general public, in advance or at the door, while supplies last. $10 for Penn students with PennCard at the door.

Relâche's second performance in the series, "Comix Trips Meets Buster" will be Sunday, February 9. 2014 at 3:00 PM. The ensemble will perform the title tracks from its new CD, "Comix Trips," commissioned from composer Paul Lansky. Loaded with quirky charm, humor, and virtuosity, with touching moments as well, Lansky's music makes the eight players in Relâche sound truly orchestral. February 9 also marks the release of the group's new CD which will be for sale at the concert.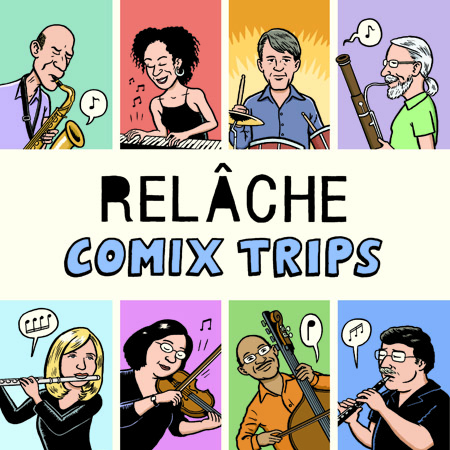 Relâche's silent film offering will be Buster Keaton's blockbuster comedy, "The General." The title is actually the name of a steam engine which Keaton engineers as no steam train has ever been engineered before or since. The film's two chase scenes are spectacular. Relâche cranks up its live accompaniment for the film live with music drawn from its repertoire, including selections by Philip Glass, Guy Klusevcek, Raymond Scott, Eric Satie, Fred Ho, and Tyler Capp, plus Relâche's own versions of period tunes like Ashokan Farewell and Battle Hymn of the Republic.
The audience is cordially invited to an informal reception following the performance to meet the musicians of Relâche.
For more information, call 215.898.2680.

Photo by Christine Hanning.