Saturday, March 8, 1:00 - 4:00 pm
"One Book, One Philadelphia" Event
Iraqi Cultural Day
The rich sights, flavors, arts, and traditions of Iraq, ancient and modern, converge Saturday, March 8, 1:00 – 4:00 pm, when the Penn Museum presents Iraqi Cultural Day! The special afternoon is a featured part of this year's citywide One Book, One Philadelphia joint project of the Mayor's Office and the Free Library of Philadelphia.
Nearly 700 Iraqis have resettled in Philadelphia, helping to inspire a family-friendly afternoon of food and cultural dress demonstrations, and fine arts and photographic displays. At the centerpiece of the day is Iraq's Ancient Past: Rediscovering Ur's Royal Cemetery, the Penn Museum's exhibition that features more than 220 ancient artifacts discovered at and excavated from the ancient Royal Cemetery at Ur, located in present-day southern Iraq. Visitors can see painstakingly conserved artifacts including the Ram-Caught-in-the-Thicket, the impressive headdress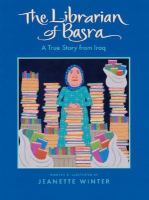 of Ur's Queen Puabi, along with many of her lavish burial goods, including extraordinary jewelry and other artifacts of gold, silver, lapis lazuli, carnelian, and alabaster. Also on display is the famous Bull's Headed Lyre front piece with its inlaid lapis lazuli and shell mosaic.
The day's lineup also includes children's crafts and activities, including a group reading of The Librarian of Basra, a children's companion book to the 2014 One Book, One Philadelphia selection, The Yellow Birds. All families are invited to gather and listen to this true account of a community saving their library from destruction. An interpreter translates the story into Arabic for a bi-lingual experience. Co-sponsored by the Philadelphia Refugee Mental Health Collaborative, in partnership with the Intergenerational Center at Temple University, providing most of the afternoon's presenters through its "Friendships Across Cultures" women's program. PRMHC is a group of resettlement agencies, mental health providers, physicians and arts organizations working to link refugees in the city of Philadelphia to culturally and linguistically appropriate mental health care. Specifically, the "Friendships Across Cultures" program pairs Iraqi refugees with local retirees for cross-cultural learning opportunities. Free with Museum admission.
IRAQI CULTURAL DAY SCHEDULE
1:00 - 2:00 pm – Cuneiform Tablets Station
1:30 - 2:00 pm – Food Demonstration
2:30 - 3:00 pm – Talk: "Preserving Iraq's Cultural Past"
3:15 - 4:00 pm – 2014 One Book, One Philadelphia Children's Reading: The Librarian of Basra
All Afternoon Events:
Cultural Dress Demonstrations
Fine Arts Display
Writing and Photography Display
Children's Crafts