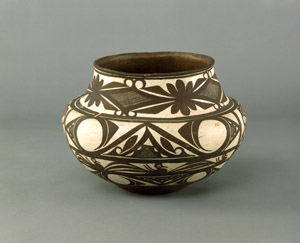 Sunday, March 9, 1:00 - 4:00 pm
Second Sunday Family Workshop
Southwest Ceramics
Kids and families are invited to join in this drop-in workshop anytime between 1:00 and 4:00 pm. Children can learn about the abstract designs on pottery from the Hopi, Zuni, and Pueblo of the Southwest, which allude to relationships between people and their environment. Illustrate your own 2-D pottery shape inspired by the designs of the Southwest, and explore the newly installed exhibition, Native American Voices: The People—Here and Now, with a scavenger hunt! Free with Museum admission.