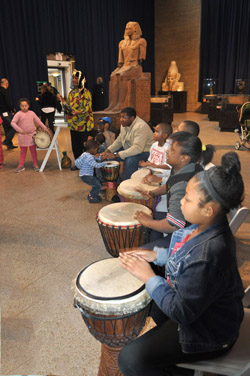 Saturday, April 5, 1:00 - 4:00 pm
World Culture Afternoon
Drums around the World
Come with your drum! This percussion party takes guests on a musical journey from Africa to Brazil, to Ireland, the Middle East, and Native American beats, all in one afternoon. A limited number of drums are provided, and visitors are welcome to bring their own drums to the Penn Museum for the workshops—and a grand finale drum circle performance to close the afternoon in a medley of drums, cultures, and goodwill.
An assortment of drums and flutes are available for purchase in the Museum Shop and the Pyramid Shop for Children. Family crafts and a self-guided tour of instruments on display throughout the Penn Museum round out the day.
Co-sponsored by the University of Pennsylvania's 2013-2014 Year of Sound. Free with Museum admission.
All Day Events, 1:00 - 4:00 pm
Self-guided musical instrument tours
Family make-and-take crafts
Museum Shops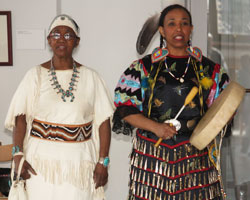 DRUMS AROUND THE WORLD 2014 SCHEDULE
1:00 - 1:30 pm – Samba and Brazilian Drum Workshop
1:30 - 2:00 pm – North Indian Tabla Demonstration
2:00 - 2:30 pm – African Djembe Drum Workshop
2:30 - 3:00 pm – Irish Bodhrán Workshop
2:45 - 3:15 pm - Taiko Drumming Workshop
3:00 - 3:30 pm – Middle Eastern Drumming
3:30 - 4:00 pm – Native American Drum Demonstration
4:00 pm Drum Circle Finale