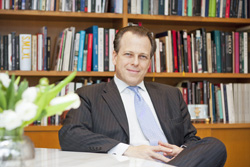 Tuesday, March 18, 6:00 pm
Evening Lecture
Art Museums and Antiquities: Balancing Practical and Ethical Concerns
Maxwell Anderson, Eugene McDermott Director of the Dallas Museum of Art, speaks. Objects in museum collections are increasingly subject to claims invoking statutes or patrimony laws that were not enforced at the time of acquisition; claims are often not substantiated with compelling evidence of a findspot or even pertinence to a particular region. Dr. Anderson discusses various challenges facing museum administrators seeking to present the evidence of the past while recognizing the ethical dilemmas bound up in that mission. Sponsored by the Penn Cultural Heritage Center. Free admission. For more information, visit www.pennchc.org.
Photo courtesy of Dallas Museum of Art.