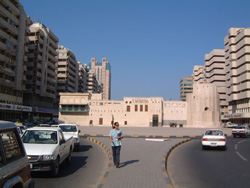 Thursday, April 3, 12:30 pm
Brown Bag Lecture
Creating and Conserving Culture in the 21st Century
Dr. Samia Rab, Board Member, Historic Preservation Trust of Lancaster, Pennsylvania, speaks. Dr. Rab discusses cultural projects, museums, and heritage conservation strategies being pursued in Abu Dhabi, Dubai, and Sharjah in the Persian Gulf. They are redefining the roles of architects and designers in mediating global aspirations of the state with specific needs of local communities. Sponsored by the Penn Cultural Heritage Center. Free admission. For more information, visit www.pennchc.org.
Image courtesy of Samia Rab.