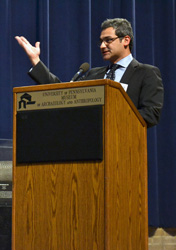 Wednesday, March 19, 6:00 pm
Loren Eiseley Society Members Event
Destination Penn Museum: Major New Initiatives Unveiled
Williams Director Dr. Julian Siggers invites Loren Eiseley Society members to a special evening as he presents the major initiatives of the Museum's new strategic plan. Join him, as he shares his transformative vision for the Museum's future. To RSVP, call 215.898.5093 or email membership@pennmuseum.org.