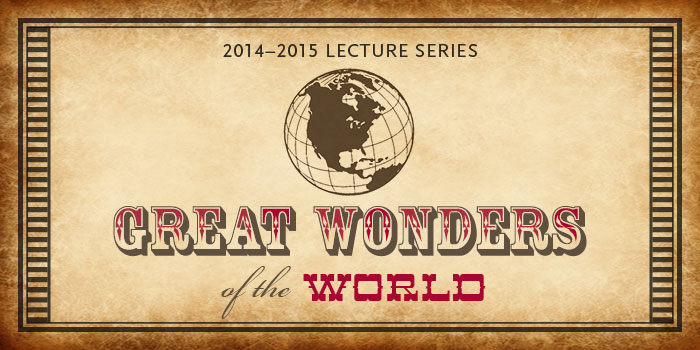 Great Wonders Lecture Series
The Statue of Zeus at Olympia
Wednesday, April 1, 6:00 pm
Lecture given by Tom Tartaron, Ph.D., Associate Professor of Classical Studies
The Statue of Zeus at Olympia, in southern Greece, was counted as one of the Seven Wonders of the Ancient World and was even singled out for the awe it inspired in all who beheld it. It was a monumental work of art ­– more than 40 feet tall, made of gold and ivory over a wooden framework – seated majestically on a cedar wood throne decorated with gold, ivory, ebony, and precious stones. The statue was created in a nearby workshop by the renowned sculptor Pheidias, who also sculpted the monumental statue of Athena in the Parthenon. Although the statue was lost by the fifth century A.D., we have a good idea of its general appearance from coins bearing its likeness, mentions in ancient literature, and Roman copies that it may have inspired. We also have intriguing archaeological evidence of Pheidias' workshop and from the temple itself. In this lecture I will discuss the statue and its sculptor, the techniques of manufacture, what we know the statue's history and its fame across the classical world, and its place in the religious traditions of the Greeks.
Lecture with advance payment
$5 General Admission
$2 Penn Museum Members
$10 At-the-door

Join us every first Wednesday of the month at 6:00 pm from October through June 2015 for our "Great Wonders" lecture series.
For more information, call 215.898.2680.