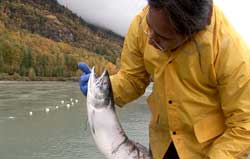 September 9
Sunday, 2:00 pm
Second Sunday Culture Films Series
Smokin' Fish (2011)
Alaskan Tlingit filmmaker Cory Mann is both the subject and the co-director, with Luke Griswold-Turgis, of this film about retaining a very traditional indigenous lifestyle in the Northwest—alongside a 21st century cyber business. The program concludes with a panel discussion about living a bicultural life in balance, presented by the group Natives at Penn. This program is cosponsored by the Penn Center for Native American Studies, Greenfield Intercultural Center, Natives at Penn, and Penn Cinema Studies. Free with Museum admission. For more information, call 215.898.2680.
Read more about the Second Sunday Culture Films Series here.
Photo courtesy of Luke Griswold-Tergis and Cory Mann