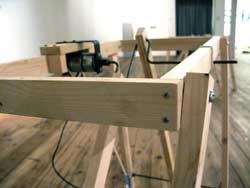 September 16
Sunday, 2:30 pm Workshop; 4:00 pm Performance
Philly Fringe Event
Monsters: A Workshop and Happening

Take an afternoon out to discover your inner monster at this audacious Philly Fringe event! Participate in the 2:30 pm DIY workshop where audience members collaborate with artist Douglas Repetto in assembling a herd of frolicking "foals"—small walking tables handmade from scrap wood and simple mechanical parts. Then at the 4:00 pm happening, the monstrous herd will be set free in the Penn Museum's majestic Chinese Rotunda, where an epic struggle between the forces of good and evil may or may not take place. Afterwards they are herded out into the Warden Garden, free to eat the grass and frolic in the fountains. After the event audience members are invited to adopt a deviant foal. Take-home foal-building plans are also available. Foal friends or foal foes? There's only one way to find out! Free with Museum admission ($12 adults; $8 children 6 to 17; $10 seniors; free for children 5 and under, and Penn Museum members.) Advance tickets recommended; workshop participation is on a first-come, first-served basis. Tickets available online at www.livearts-fringe.org. For more information: 215.898.2680.