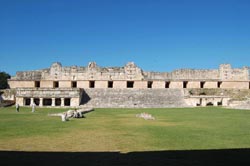 September 19
Wednesday, 6:00 pm
MAYA 2012 Lecture Series
Houses of Gods and Kings: Classic Maya Temples and Royal Palaces
Joanne Baron, Ph.D. candidate in Anthropology, University of Pennsylvania, talks about the Classic Maya architecture, which towers above the tropical forests of Mexico and Central America. Built to memorialize their ancestors, to house their deities, and as home to the royal court, Maya temples and palaces are hallmarks of this great civilization. Admission: $5, general public; free for Penn Museum members. For more information, call 215.898.2680.