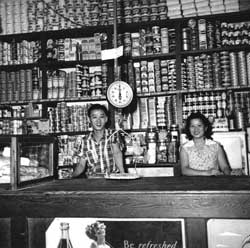 October 2
Tuesday, 6:00 pm
Live from the Archives!
The Chiney Shop (2012)
Penn Museum offers this U.S. premiere presentation of filmmaker/director Jeanette Kong's new documentary, The Chiney Shop. Drawing from the Penn Museum's unique 1930s footage of Jamaica, The Chiney Shop tells the story of Chinese shopkeepers all over Jamaica and their relationships to the communities of which they were a part. Jeanette Kong presents the film. The program concludes with a panel discussion on the Chinese diaspora in the West Indies, featuring Penn Anthropology Professor Dr. Deborah Thomas, organizer, with Dr. David Eng, Asian American Studies at Penn, and Dr. Anne Marie Lee-Loy of Ryerson University.
Admission: Pay-what-you-want. For more information, call 215.898.2680, or visit the Penn Museum Culture Films webpage.