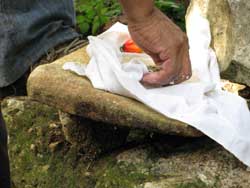 October 4
Thursday, 12:30 pm
Lunchtime Program
Tangible, Intangible, and Touristic: Heritage and Landscape Use in Neoliberal Yucatán
Maya communities of the Eastern Yucatán in Mexico and the roles they play in the preservation of Maya heritage are explored. Fernando Armstrong-Fumero, Assistant Professor of Anthropology, Smith College, and Julio Cesar Hoil Gutierrez, Ph.D. student of history at Centro de Investigaciones y Estudios Superiores en Antropologia Social (CIESAS) in Merida, Yucatán, Mexico, share their perspectives at this program sponsored by the Penn Cultural Heritage Center. Guests are encouraged to bring their own lunch. Free admission. For more information, call 215.746.4475.
12:30pm – Room 345, Penn Museum
Brown Bag Lecture – Please Bring a Lunch!