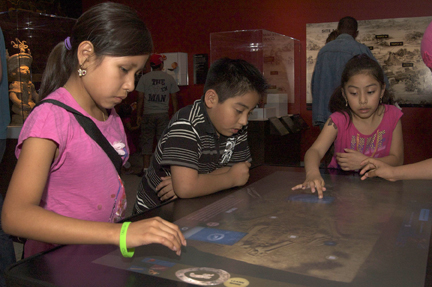 September 26
Wednesday, 5:00 - 8:00 pm
MAYA 2012 Free Community Night
Join the Penn Museum for a FREE community night, featuring a variety of Latin-themed activities for kids and families including a Mexican painting workshop, a dance performance, arts and crafts, and more. The event is presented in conjunction with the world premiere exhibition, MAYA 2012: Lords of Time. Attendees enjoy free admission to MAYA 2012 (limited space, based on availability), where you can learn about the Ancient Maya's time-ordered universe through ancient artifacts, life-sized replicas of major monuments, and plenty of interactive features.
The schedule of activities for the evening includes:
5:00 - 8:00 pm:
Mexican Painting Workshop
Local artist and muralist Cesar Viveros leads guests in a large-scale painting workshop, incorporating traditional Maya designs.
Family craft: Ojo de Dios (or God's Eye)
A yarn weaving and a spiritual object of the Huichol people of western Mexico, the God's Eye symbolizes the power of seeing and understanding "The Mystery," or that which is unknown and unknowable. Make your own God's Eye to take home!
6:30 pm:
Dance performance by Fuego Nuevo
This Pre-Columbian Culture Group, dedicated to preserving and presenting ancient Pre-Columbian dances, rites, ceremonies and arts, performs.
Throughout the evening, you can visit the MAYA 2012: Lords of Time exhibition, free of charge (limited space, based on availability). The galleries of the Penn Museum—including the Mexican and Central American gallery, Egyptian Galleries, Asian, ancient Mediterranean, African, and American Southwest Galleries—are also open for exploration. Stop by the Museum Café and try Maya-inspired light food offerings for sale, and check out great gifts ideas in the Museum Shop.
Free admission! Penn Museum is located at 3260 South Street, Philadelphia, PA 19104. For more information, call 215.898.2680.