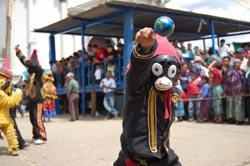 November 13

Tuesday, 6:00 pm
Live from the Archives! Film Series
Gods and Kings (2012)

This film focuses on contemporary Maya people who are using Hollywood and other North American pop culture images in their traditional costumed festivals in the town of Momostenango, Guatemala. The film creatively uses Penn Museum footage from the J. Alden Mason Collection. Filmmaker Robin Blotnik introduces the program. Penn Museum is the world premiere forum for this film, screened in conjunction with our current exhibition, MAYA 2012: Lords of Time. Admission: Pay-what-you-want. For more information, visit www.penn.museum/culturefilms or call 215.898.2680.

Click here to watch the trailer!