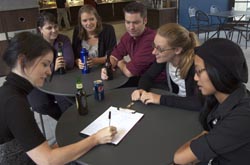 December 12
Wednesday, 6:00 pm
P.M. @ Penn Museum
2nd Wednesday Quizzo
YUENG AND WINGS NIGHT!

Test your knowledge and compete for prizes at Quizzo. The Pepper Mill Café, where the game is on, offers happy hour specials and appetizers until 7:30 pm. YUENG AND WINGS NIGHT: $5 for a bottle of Yuengling and five wings. 50 cent wings after that. For more information, call 215.898.2680.
Quizzo is led by our fun new host, DJ Quizzy Jeff. Read a Q&A with him here.