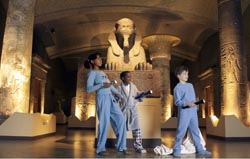 This event is SOLD OUT—but you can register in advance for future "40 Winks with the Sphinx" programs by visiting this webpage.

November 9
Friday, 5:30 pm - Saturday, 9:00 am
Sleepover Program
40 Winks with the Sphinx

Penn Museum's popular sleepover program, geared to ages 6–12 and their families or chaperones, invites guests to an overnight "expedition" of the Museum. The night's activities take intrepid explorers on a journey through time and across continents, with hands-on games, crafts, and more! A scavenger hunt and a flashlight expedition through the galleries offer new ways to connect with the ancient artifacts awaiting discovery. Later in the night, explorers roll out their sleeping bags to doze at the foot of the largest granite Sphinx in the Western Hemisphere! For more information, visit http://www.penn.museum/kids-and-family/40-winks-with-the-sphinx.html or call 215.898.2680.