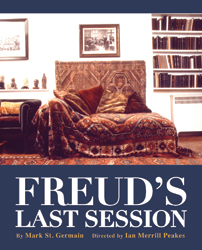 Penn Museum partners with the Arden Theatre Company as they gear up for Freud's Last Session, a play by Mark St. Germain, directed by Ian Merrill Peaks, running late October through December 23, 2012.
You are invited to the LAST DRESS REHEARSAL of Freud's Last Session, on Wednesday, October 24, 8:00 pm at the award-winning Arden Theatre Company, 40 North 2nd Street in Philadelphia. Tickets are just $15, with all proceeds going to the Penn Museum!
Order advance tickets online, and print out your ticket voucher. Open seating tickets will be handed out beginning 7:00 pm October 24 at the Arden Theatre.
But do hurry—tickets are limited!
About Freud's Last Session:
On the day that England enters World War II, Sigmund Freud invites a young C. S. Lewis (future author of such classics as The Chronicles of Narnia, The Screwtape Letters, and The Great Divorce) to his London flat. Here, the father of modern psychology challenges a little known professor on the brink of literary fame.
The Penn Museum connection:
Sigmund Freud was a prolific collector of antiquities—so much so that the Museum hosted a traveling exhibition, The Sigmund Freud Antiquities: Fragments from a Buried Past, in 1989. So when the Arden Theatre Scenic Designer David P. Gordon set out to recreate the space where Freud worked and met his patients and guests, he realized he needed to fill the set—Freud's office—with antiquities—hundreds of them. He tasked Chris Haig, Props Master, to oversee the collection of suitable pieces. Penn Museum loaned 23 reproductions of artifacts from the collection—Asian, Egyptian, Greek, and Roman pieces—to help set the stage, and the tone, for what happens when these two great men meet.