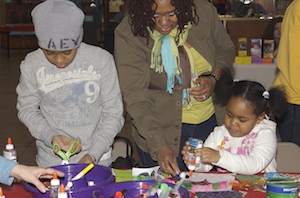 March 2
Saturday, 1:00 - 4:00 pm
World Culture Afternoon
Celebration of African Cultures
Penn Museum invites you to an afternoon exploration of the rich cultures of Africa and the African diaspora. This annual celebration features drum and dance workshops, storytelling, crafts, games, cuisine, and art and artifacts! Visitors can visit our Egypt and Africa Galleries as well as Imagine Africa, our special, extended-run gallery project to find out what intrigues other visitors about Africa, and share their own interests and understandings. Free with Museum admission. For more information, call 215.898.2680.
SCHEDULE OF EVENTS AT A GLANCE


1:00 pm – Women's Sekere Ensemble

1:15 pm – Storytelling with Sarai Abdul-Malik

1:45 pm – Come Experience the Rhythm Within Drumming Workshop
2:15 pm – ODUNDE 365 Drumming Workshop

2:30 pm – Women's Sekere Ensemble
3:00 pm – Storytelling with Sarai Abdul-Malik

3:30 pm – Dance to the Beat—You've Got to Move Your Feet Dance Workshop

Ongoing:

Mancala

Create-your-own African masks, drums, and kente cloth
Museum Shops
In the Pepper Mill Café - 1:00 to 3:30 pm

African and international menu items for purchase