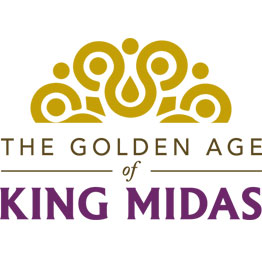 Exclusive World Premiere Exhibition | February 13 through November 27, 2016
What was behind the legendary story of King Midas and his Golden Touch?
That is the question to be answered—not with chests full of gold, but with a spectacular array of ancient artifacts, on loan from the Republic of Turkey—telling the story of a very powerful ruler of a kingdom in what is now central Turkey.
---
Student Exhibition
March 26, 2016 – March 5, 2017
The 2015–2016 Student Exhibition Internship will draw from the Penn Museum's extensive archival and archaeological collections from the site of Kourion, one of the ancient city-kingdoms of Cyprus. The University of Pennsylvania expedition began excavation there in 1934, continuing to dig in and around the ancient city until 1954, with an interruption during World War II. The Kourion area was continuously occupied from the Neolithic period through the Late Roman period and after, and the Penn excavations brought to light evidence of all these phases of activity. The Museum received some 2000 objects from the Kourion excavations, and the extensive excavation records, including correspondence, field notebooks, plans and sections, and photographs, are preserved in Museum Archives. Two cases will display close to 25objects and archival materials from this important excavation.
---
Magic in the Ancient World
April 16, 2016 – April 30, 2017
Ancient cultures believed in magic and it permeated their daily lives. In ancient Mesopotamia, Greece, Rome, and Egypt, practitioners of magic use symbolic words, images, or rituals to achieve desired outcomes through supernatural means. Through magical acts, they attempted to control supernatural powers—gods, demons, spirits, or ghosts—to accomplish something beyond the scope of human capabilities. Explore a presentation of objects associated with magical practices from the Penn Museum's own collections in Magic in the Ancient World.
---
Be the first to find out about new Penn Museum events, programs, and exhibitions by signing up for our monthly e-newsletter.