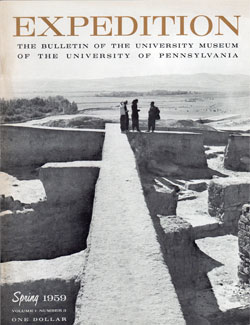 Cover: View along balk separating excavated areas at Hasanlu, Azerbaijan, Iran. Doorways to the right belong to the Burned Building of the ninth century BC excavated by a Joint Expedition of the University Museum and the Iranian Archaeological Service.
Features
A Sumerian Document with Microscopic Cuneiform
Samuel Noah Kramer
Digging in Iran--Hasanlu, 1958
Robert H. Dyson, Jr.
The Hasanlu Bowl
Edith Porada
Clever People, These Armenians
Carleton S. Coon
Double Trouble
Elizabeth K. Ralph
Te-moana-nui-o-Kiwa: The Final Article in a Series about the Finding and Naming of Some of the Islands in the Pacific--The Maori Great Sea of Kiwa
Marianne L. Stoller
Departments
Museum Staff