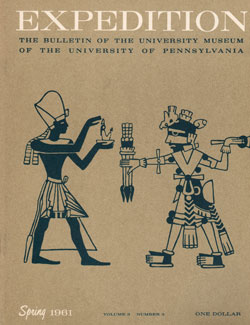 Cover: An Egyptian figure from one of the columns of the Palace of Merenptah at Memphis faces a late Pre-Conquest Mexican warrior. Together they symbolize the arcaheological work in the Old and the New World for which the Museum is famous.
Features
Boys of the Yellow Robe
Robbins Burling
"Timber-Graves" in Southern Russia--A Pre-Scythian Culture
Marija Gimbutas
An Ivory Gorgoneion
G. Roger Edwards
Easter Eggs and Easter Bread of Southeastern Pennsylvania
Margaret L. Arnott
An Iranian Gold Piece
Robert H. Dyson, Jr.
Departments
Museum Staff