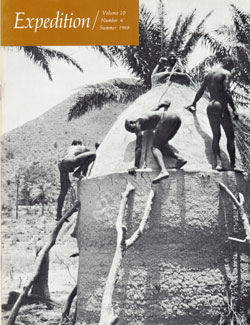 Cover: Kofyar men are preparing to thatch a characteristic woman's house (meleng) in Bong Village. The head of the woman occupant is seen emerging from the flask-shaped opening in the domed roof.
Features
The Restoration of a Bronze Plaque from Benin
Leslie R. Langton
Two Peruvian Frogs
Alfred Kidder II
Kofyar Building in Mud and Stone
Robert Netting
Early Work on the Acropolis at Susa--The Beginning of Prehistory in Iraq and Iran
Robert H. Dyson, Jr.
Departments
Expedition News