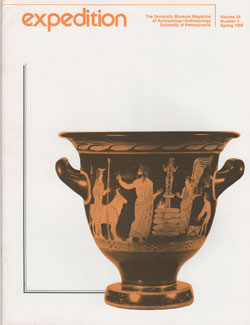 Cover: Photo courtesy of Kunsthistorisches Museum, Vienna, Acc. no. 1144. Attic red-figure bell krater, late 5th century BC. The scene shows a sacrifice before the idol of Chryse which is placed on a column behind the burning altar.
Features
Early Greek Idols--Their Appearance and Significance in the Geometric, Orientalizing and Archaic Periods
Irene Bald Romano
Pipestave Hollow Ideography--Possible Calendrical Notations from the Northeast
Gretchen Anderson Gwynne
Early Iron Age Luxury Imports--Into the Paris Basin
Nicholas Freidin
Ancient Maya Houses at Cauinal and Pueblo Viejo Chixoy, el Quiche, Guatemala--II
Robert M. Hill, II
Archaeological Looting--A New Approach to the Problem
Arthur Miller
Departments
Museum Staff
A New Director of the University Museum--Robert H. Dyson, Jr.